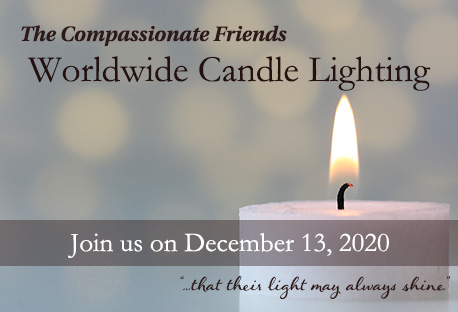 24th ANNUAL WORLDWIDE
CANDLE LIGHTING CEREMONY
Sunday, December 13, 2020 at 6:45 pm
Laura's Place
Next to Havencroft Elementary School
1700 E. Sheridan St.
Olathe, Kansas 66062
In loving memory of all children who are no longer with us, join us for the annual Worldwide Candle Lighting. The Compassionate Friends invites you, your family, and your friends to be together with other bereaved families and light a candle for your loved ones. The Compassionate Friends Worldwide Candle Lighting occurs around the globe.
As candles are lit at 7 p.m. local time, bereaved families gather to honor their loved ones in a way that transcends all ethnic, cultural, religious and political boundaries.
The candle lighting will be outside this year. We'll keep the ceremony short. Dress warmly and join us.
All candles are supplied by our chapter. There will be luminaries lighting the way down to Laura's Place. If you don't want to walk down to Laura's Place, there will be a station in front of the school where you can light a candle and say your child's name.
We won't be socializing after the brief ceremony this year because of the pandemic.
---
The Worldwide Candle Lighting started in the US in 1997 as a small internet observance but has since spread throughout the world.
Believed to be the largest mass candle lighting on the globe, the ceremony creates a virtual 24-hour wave of light as it moves from time zone to time zone. Wherever you are at that time, we hope you will join us in this loving remembrance.
The Remembrance Book, an online memorial message board, will be available at thecompassionatefriends.org.
The Remembrance Book will be open to posting a message December 1st through December 14th. Photos can be posted on the Worldwide Candle Lighting Facebook page.​
Sponsored by
The Johnson County Chapter of The Compassionate Friends
In memory of all children who have died, but will not be forgotten . . .
that their light may always shine