The Johnson County Chapter of The Compassionate Friends meets on the second Thursday of each month at 6:30 pm. We will be meeting in the Parlor Room at the United Methodist Church of the Resurrection, 13720 Roe Ave, Leawood, KS 66224.
Here's how to find the Parlor Room.  Use this entrance: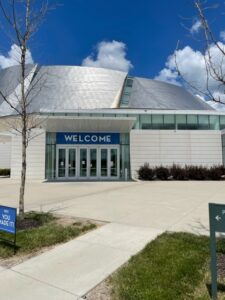 You may also join via Zoom. Use the contact form to be emailed the link to join online.
Siblings:  After our opening and introduction of the topic, a siblings breakout group is offered at the Chapter Meeting.  High school and older siblings are welcome.  
We regret that younger siblings cannot attend.
To find out more about Compassionate Friends call (913) 712-4416 or email jocotcf@hotmail.com
Other TCF chapters in our area
These other meetings may also be virtual only.  
Get in touch with the contacts listed for more information.
TCF of Douglas County – Lawrence, KS
2nd Monday, 7:00 pm
Unity Church of Lawrence
900 Madeline Ln
Lawrence, KS 66049
Contacts:
 Sarah: (785) 840-5349
 Diana: (785) 331-4160
 dansrokelly@msn.com
Wyandotte County Chapter – Kansas City, KS
1st Tuesday, 7:00 pm
Eisenhower Recreation Center
2901 North 72nd Street
Kansas City Kansas 66109
Contacts:
 Richard: (913)-238-1890
 Marlene: (913) 238-8348
  prichardmoore@yahoo.com
The Kansas City Chapter – Kansas City, MO
4th Tuesday, 7:30 pm
St. Joseph Medical Center (Community Center – Abell Lorenz Room)
1000 Carondelet Drive
Kansas City MO 64114
Contacts:
 Katie and Matt Knox
 katiejknox@gmail.com
 (816) 365-3999
Eastern Jackson County Chapter – Independence, MO
3rd Thursday of each month 7:30 pm
Walnut Gardens Community of Christ Church
19201 East R D Mize Road
Independence Missouri 64057
 http://www.easternjacksoncountytcf.org/
Contacts:
 phillipsplace@aol.com
 (816) 229-264
TCF of North Metro – Liberty, MO
2nd Thursday of each month, 7:00 pm
Pleasant Valley Baptist Church
1600 N State Route 291
Liberty Missouri 64068
Contacts:
 Joe and Michele Sanderson: (816) 769-6207
 libertymotcf@yahoo.com